"For the time is coming when people will not endure sound teaching, but having itching ears they will accumulate for themselves teachers to suit their own passions, and will turn away from listening to the truth and wander off into myths." 2 Timothy 4:3-4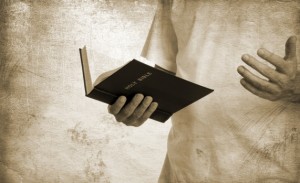 The primary goal and aim of Weston Christian Academy is for our students to grow in their love for Jesus Christ and His Word.  It is paramount that Christian teachers and parents know how important this is as we train up the next generation of covenant children who will live in a world where most people hate the truth of God's Word.  Even in many churches today, people are Biblically illiterate and don't want to know and understand sound doctrine.  However, this was nothing new to the Apostle Paul who wrote the above verses almost two thousand years ago that "the time is coming when people will not endure sound teaching."
The time has come!  People do not want the truth of sound teaching, but instead want the philosophy of positive thinking and new age myths that so permeate churches today, even many of our main line denominations.  They don't want the truth of the gospel of Christ, but their own gospel that "tickles their ears" and allows them to continue in their sin.  They turn away from Christ and hate the truth of God's Word.
However, we as Christians must know and understand that the Bible is special revelation from God – perfect, pure, and true. (Psalm 19)  The Bible contains everything we need for faith and life and gives us wisdom as we come to know and apply God's Word to our lives.  As Christians, we apply God's Word to teach, correct, and train so that we will grow in faith, love, truth, and wisdom.
"All Scripture is breathed out by God and profitable for teaching, for reproof, for correction, and for training, that the man of God may be fully equipped for every good work." 2 Timothy 3:16-17
The next generation will live in a time more opposed to Jesus Christ and the Bible than even we encounter.  The culture will most probably become as pagan as what Paul and Timothy confronted, bringing about opposition and persecution for those who follow Jesus Christ and obey His Word.  However, it is during these times, as we have seen throughout history, that God uses His people to further His Kingdom in a might way to impact the culture.  This is the reason Christian teachers and parents who follow Christ must train up the next generation to know and love the gospel of Christ "rightly handling God's Word of truth."
"Do your best to present yourself to God as one approved, a worker who has no need to be ashamed, rightly handling the Word of truth." 2 Timothy 2:15.
May God bless you with His grace, love, and truth!