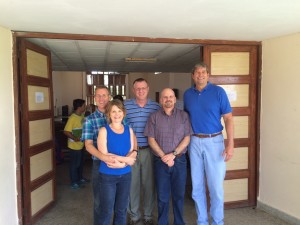 "In Christ you also, when you heard the word of truth, the gospel of your salvation, and believed in Him, were sealed with the Holy Spirit, who is the guarantee of our inheritance until God redeems His possession, to the praise of His glory."  Ephesians 1:13-14
I recently returned from a six day mission trip to Cuba.  I was tremendously blessed to be part of a training for 220 Cuban missionaries and pastors outside of Havana in Pinar Del Rio.  Steve Smith (far left), an American missionary from China and author of T4T (Training for Trainers): A Discipleship Rerevolution led the training sessions.  It was my great joy to meet with many courageous missionaries and pastors and see the great movement of God in Cuba.  Most of the churches in Cuba are house churches with twenty to thirty people in each church.  Once churches reach that approximate number, usually new church plants (cells) are started elsewhere and another church is formed.  Thousands of churches have been planted in the past ten years and thousands more are being planned and prayed for throughout Cuba as many more pastors and missionaries are being trained in Cuban churches and seminaries.
As in Cuba, a great movement of God is also happening in China, with house churches growing rapidly throughout the country.  Many missionaries who study the growth of the church movement throughout the world believe there are now more Christians in China than in the United States, where churches in our country are sadly straying farther and farther from the truth of the gospel given to us in God's Word.
The spread of the gospel is by God's sovereign grace through the power of the Holy Spirit.  It is not and never has been a man made or inspired endeavor by man's own choosing, but men and women are moved by God to believe in Christ and are born again by the Holy Spirit (1 Peter 1:3), and then they share the precious truth of the gospel with others led by the Spirit, and then others do the same as they are born again into the family of God.  This is God's plan for growing His church, the body of Christ – it is God's way.
From ages past, the gospel truth of Jesus Christ has spread and is spreading throughout the world.  God's sovereign plan of salvation through Christ the Lord continues to save His people, those who believe in Him, in Cuba, China, the United States, and throughout the world.  Wherever the gospel of truth is proclaimed, people are being saved into the Kingdom of God.
"For I am not ashamed of the gospel because it is the power of God for salvation for everyone who believes."  Romans 1:16.,,,