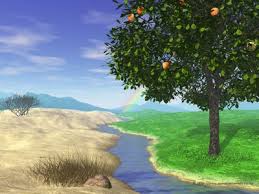 "Blessed is the one who trusts in the Lord, whose confidence is in Him.  They will be like a tree planted by the water that sends out its roots by the stream.  It does not fear when heat comes; its leaves are always green.  It has no worries in a year of drought and never fails to bear fruit."  Jeremiah 17:7-8
Education that is grounded in God's Word and guided by God's Will is a blessing from God.  Most people in our country today sadly don't believe this truth, but nevertheless, it is a blessing for those who trust God and obey His Word as they educate their children.  This resonates with me as the leader of a Christian school that partners with Christian parents who want their children to be trained up knowing Jesus Christ and the truth of His Word.
An education that follows God's Will glorifies God and "never fails to bear fruit."  An unbeliever who is biblically illiterate may read that last statement and say, "Bear fruit?  What kind of fruit?  Oranges, apples, or bananas?"  No, I mean spiritual fruit that only comes from Jesus Christ to those who are born again in Christ.  Spiritual fruit that we find in Galatians 5:22-23:
"But the fruit of the Spirit is love, joy, peace, patience, kindness, goodness, gentleness, faithfulness and self-control.  Against such things there is no law."
In Christian education, we want our students to grow strong academically with excellent teaching and training in math, science, English, history, Bible, art, and all other subjects, and gain as much knowledge as possible.  However, most importantly and foundationally, we want our students to know and love Christ, the primary purpose of life, and bear fruit in their lives.  What good is it to know math if you don't know Christ and don't have love, joy, and peace in your life?  What good is it to be a great artist if you don't have a relationship with the one, true and living God, and don't have God's truth and love to share with others.
Listen to Jesus, as He taught and trained His disciples in Matthew 16:26:
"What good will it be for someone to gain the whole world, yet lose their soul?"
We could paraphrase today with this statement: What if a person has the greatest education in the world and everything that fame can offer, but doesn't know Jesus Christ and the love of Christ, and lose his soul, what good will it gain?  Absolutely nothing good at all!  However, those who love Christ find the true meaning of life with all the vast treasures of wisdom and knowledge, and this life "never fails to bear fruit."
May God bless you with His grace, love, and truth!