"But when Joseph had considered this, behold , an angel of the Lord appeared to him in a dream, saying, 'Joseph, son of David, do not be afraid to take Mary as your wife; for the Child who has been conceived in her is of the Holy Spirit.  She will bear a Son; and you shall call His name Jesus, for he will save His people from their sins.'  Now all this took place to fulfill what was spoken by the Lord through the prophet: 'BEHOLD, THE VIRGIN SHALL BE WITH CHILD AND SHALL BEAR A SON, AND THEY SHALL CALL HIS NAME IMMANUEL,' which translated means, 'GOD WITH US.'"  Matthew 1:20-23
Last week we had our annual school Christmas Pageant and our students' performance was entitled, "Don't Miss the Moment."  It was a wonderful Christmas Pageant and those in attendance were blessed by it.  However, sadly to say, most people in the world today not only miss the moment of Christmas, they totally miss the meaning and message of Christmas.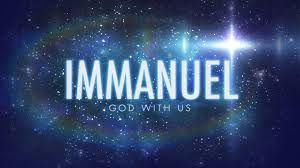 As Christians, who know and believe the truth of God's Word, the message of Christmas is found in these simple but profound verses in the Gospel of Matthew.  A child, born of a virgin, and conceived by God through the power of the Holy Spirit is named Jesus, which translated means, "The Lord Saves," for "He will save His people from their sins."  This verse begs the question, who are HIs people?  His people are those who believe in Him – those who are saved by God's grace through faith in Jesus Christ our Lord. (Ephesians 2:8-9)
Now, you and I both know there are many people who don't believe in the miraculous and supernatural narrative of the virgin birth.  However, as unbelievable as the virgin birth may be for some people, God becoming flesh as a baby is even more unbelievable.  But, that is the main part of the message of Christmas!  God has come to this world supernaturally to be with us – "Immanuel, which translated means, 'God with us.'"  God revealed Himself to us in a special way, and this is special revelation so that we may truly know God.  Without special revelation from God, Jesus Christ in flesh, we would never, ever know God – no way, no how.  Listen to John 1:14, "And the Word became flesh, and dwelt among us, and we saw His glory, glory as of the only begotten from God the Father, full of grace and truth." 
God intersected time and space as a baby, conceived by God and born of a virgin, and this baby grew to be fully God and fully man without sin to die on the cross, the most important and magnificent event in the history of mankind, to defeat sin and death.  The birth of Jesus Christ leads to the cross of Jesus Christ, where you and I find salvation by God's grace through faith.  Many people don't believe the message of Christmas, but those who do believe the message find abundant and eternal life in Christ.
Merry Christmas and may God bless you with His grace, love, and truth!