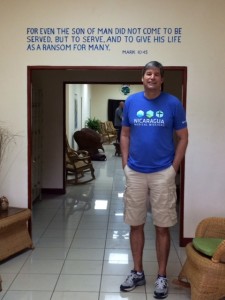 "Whoever wants to become great among you must be your servant, and whoever wants to be first must be slave of all.  For even the Son of Man did not come to be served, but to serve, and to give his life as a ransom for many."  Mark 10:43-45
For five days this past week, my wife and I had the opportunity and privilege to join a group of mostly doctors and nurses and travel to Nejapa, Nicaragua to take part in a medical mission.  While there, I met a wonderful Christian couple, Drs. David and Laura Parajon, who serve as the medical directors of AMOS Health and Hope, a medical organization that reaches out to over 30 villages in rural Nicaragua with much needed healthcare and the marvelous hope of Jesus Christ our Lord.
This humble and humanitarian couple are truly servant leaders.  They could have a comfortable and convenient life in the United States with all the things that come with being successful medical professionals, but instead, they went to Nicaragua not "to be served, but to serve."
David grew up in Nicaragua, where his parents were missionaries.  He returned to the United States to go to college and medical school where he met Laura, also in medical school at the University of New Mexico.  They both felt the call to go to Nicaragua and start AMOS Health and Hope that reaches the neediest of the needy.  Most of the people who they give health and hope don't have addresses, electricity, educational opportunities, medical care, and most have never heard the good news of Jesus Christ.
This amazing couple has built a medical organization of over fifty people and through their efforts many villages are being transformed with basic medical care, health instruction, and hygiene that we in the United States take for granted.  Basics like clean water, proper diet and preparation of food, deworming, sanitation, aspirin, and medical checkups.  Also, AMOS Health and Hope collect data from the people of the villages to help assess the needs and develop treatment plans.  Something the government of Nicaragua has never done for these people.  The good news, many lives are being saved, and not only physically, but most importantly, spiritually.  For every village they enter to deliver the good news of health, they also deliver the good news of hope – the good news of God's salvation by grace through faith in Jesus Christ our Lord.
Drs. David and Laura Parajon have been called by God to be servant leaders.  To serve our Lord Jesus Christ and serve the people of Nicaragua.  I was blessed to spend five days with this humble Christian couple who are mightily impacting their country for the glory of God!
May God bless you with His grace, love and truth!