Do not conform any longer to the pattern of this world, but be transformed by the renewing of your mind.  Then you will be able to test and approve God's will – His good, pleasing, and perfect will.  Romans 12:2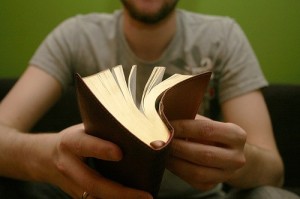 The famous quote, "A mind is a terrible thing to waste," has caught the attention of Americans since it was popularized in 1972 as part of a national campaign for the United Negro College Fund.  This phrase has also been used widely by many educators to remind children of the need for education and not to waste the opportunity of learning.   
 "A mind is a terrible thing to waste," also should remind Christians of the need to read and study God's precious Word and not waste the opportunity of learning the most powerful and precious things in life.  God has given us His Word, the Bible, so that we may know "His good, pleasing, and perfect will."  However, so many times, even as Christians, we tend to conform to this world and follow the shallow teachings of man instead of following the truth of God.
God's Word transforms and renews our mind to allow us to think the very thoughts of God.  The totality of truth, the deep wellsprings of wisdom, and the entrance into the knowledge of eternal life come from God's Word.  Why would we want to conform to the pattern of this decaying world with all of it's sad allusions of grandeur when we can drink from the cup of the One who gives wisdom, truth, and eternal life.
However, people can't understand this amazing truth until they come to know the living truth, Jesus Christ, who opens our hearts and minds to the understanding of spiritual things.  Listen to the Apostle Paul in Ephesians 1:16-20:
"I have not stopped giving thanks for you, remembering you in my prayers.  I keep asking that the God of our Lord Jesus Christ, the glorious Father, may give you the Spirit of wisdom and revelation, so that you may know Him better.  I pray also that the eyes of your heart may be enlightened in order that you may know the hope to which He has called you, the riches of His glorious inheritance in the saints, and His incomparably great power for us who believe.  That power is like the working of His mighty strength, which He exerted in Christ when He raised Him from the dead and seated Him at His right hand in the heavenly realms.
I hope and pray you know the living truth, not merely "know about" Him.  Only Christ opens hearts and minds through faith in Him so that you may be transformed and grow in God's precious Word for the rest of your life.
May God bless you with His grace, love, and truth!