"For the word of the cross is foolishness to those who are perishing, but to us who are being saved it is the power of God."  1 Corinthians 1:18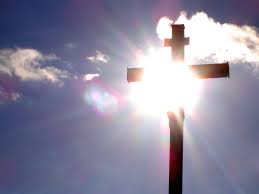 The crucifixion of Jesus Christ on the cross at Calvary is the most glorious and powerful event in the history of mankind.  The cross of Christ was predestined and decreed by God before the foundation of the world (Ephesians 1:4) and Christians throughout the centuries have believed in this foundational Biblical truth that we also believe is historical fact.  However, the cross of Christ also serves as a stake that clearly separates unbelievers, "those who are perishing," with believers, those "who are being saved."
The Apostle Paul says the gospel message separates because to many it is a stumbling block or foolishness.
"We preach Christ crucified, to Jews a stumbling block and to Gentiles foolishness, but to those who are called by God, both Jews and Gentiles, Christ the power of God and the wisdom of God.  Because the foolishness of God is wiser than men, and the weakness of God is stronger than men."                    1 Corinthians 1:23-25
The cross of Christ is foolishness to many and it remains a stumbling block that many trip over.  You have to admit, it is pretty far fetched.  A cross?   The most despicable form of torture and death in the history of the world and it represents the most glorious sign for Christians.  You can understand why most people in the world consider it to be grotesquely foolish, can't you?
But, listen to Paul's words in 1 Corinthians 1:27-31, as he states the reasoning behind God's wisdom and wonder of the cross:
"God has chosen the foolish things of the world to shame the wise, and God has chosen the weak things of the world to shame the things which are strong, and the base things of the world and the despised God has chosen, the things that are not, so that He may nullify the things that are, so that no man may boast before God.  But by His doing you are in Christ Jesus, who became to us wisdom from God, and righteousness and sanctification, and redemption, so that, just as it is written, 'LET HIM WHO BOASTS, BOAST IN THE LORD.'"
It was so paramount to Paul, the Apostle of Christ, who met the resurrected and living Christ on the road to Damascus, that Paul's main desire and determination in life was to preach the good news of a crucified Savior:
"For I determined to know nothing among you except Jesus Christ, and Him crucified." 1 Corinthians 2:2
"For the word of the cross is foolishness to those who are perishing, but to us who are being saved it is the power of God." 1 Corinthians 1:18
It is the power of God because Jesus Christ was not only crucified, dead, and buried, but on the third day raised to life to defeat sin and death so that those of us who believe in Him have everlasting life in Jesus Christ our Lord.
"For I am not ashamed of the gospel, for it is the power of God for salvation to everyone who believes."  Romans 1:16
That's the power of God!  That's the joy of Easter!
May God bless you with His grace, love and truth!