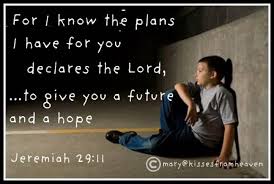 "For I know the plans I have for you," declares the Lord, "plans to prosper you and not to harm you, plans to give you hope and a future."  Jeremiah 29:11
As Sovereign God, who knows the beginning and the end, and ordains all things to HIs glory, God has plans for His children, those who know Him as Lord and Savior.  For those who know and follow Christ, God has declared His plans for us – not to harm us – but to give us hope and an abundant and eternal future.  This is a declaration and promise from the living God.
When I became a follower of Jesus Christ more than thirty years ago, God confirmed in my heart by His Holy Spirit that He was Lord of my life.  "The Spirit Himself testifies with our spirit that we are children of God" Romans 8:16.  I knew then and there that God was to guide my life and grow me to be the man He had called me to be.  "Trust in the Lord with all your heart and lean not on your own understanding; in all your ways acknowledge Him, and He will make your paths straight" Proverbs 3:5-6.  I didn't gain all wisdom and knowledge overnight and God continues to guide and grow me by His grace, but I knew my hope and future rested in Jesus Christ the day I believed in Him.
One of the early blessings God confirmed in my heart was that my plans and destiny were part of God's greater purpose through my faith in Christ.  "And we (Christians) know that God causes all things to work together for good to those who love God, to those who are called according to His purpose" Romans 8:28.  Things may not always work out just the way I want them to and sometimes I even experience hardships and heartbreak along the way like anyone else in life, but I trust my Lord to work everything out for my good and His glory.
I know God has declared and determined the best for me, not to harm me but to give me a blessed hope and future in Jesus Christ my Lord.  This is the testimony and truth of His precious and powerful Word.  Praise God!
May God bless you with His grace, love and truth!