"Be joyful always; pray continually; give thanks in all circumstances, for this is God's will for you in Christ Jesus."  1 Thessalonians 5:16-18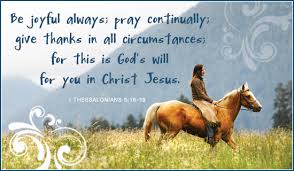 As we get close to thanksgiving, we are reminded and should remember the many things to be thankful for in our lives.  And this should be most evident for Christians, since we are called to be a thankful people and to "give thanks in all circumstances."  To make this more concrete in our thoughts, the Apostle Paul says that giving thanks for all things is God's will for us.  We are to be thankful for all things in our lives, but especially the gift of life itself from our creator God and eternal life from His only Son, Jesus Christ our Lord.
One of my favorite praise songs is "Give Thanks" by Don Moen.  Here are the lyrics:
Give thanks with a grateful heart; Give thanks to the Holy One; Give thanks because He's given Jesus Christ, His Son. (2x)
And now let the weak say, "I am strong;" Let the poor say, "I am rich; Because of what the Lord has done for us." (2x)
Give thanks; We give thanks; Give thanks.
As Christians, giving thanks with a grateful heart is glorifying to God because it is His will for us in Christ Jesus.  We are not only to thank God who is the author and giver of our faith, but also thank one another.
I'm continually amazed, really appalled, at the lack of kindness and graciousness shown today in our society.  These two basic words, "thank you," are seldom used, and if they are used, it is often without sincerity.  These precious words should be stated clearly and used often.
As the headmaster of a Christian school, I remind our students that young people who are polite and kind to others using the language of grace and love will be like diamonds shining against the dark backdrop of a dirty black sheet.  This is just a little thing, and does not make one a Christian.  However, as Christians, it is a wonderful witness to others in the world that we are a thankful people.
We have so much to be thankful for every day.  God gives us new mercies each morning.  New opportunities to serve Him and glorify Him with our words, work, and witness.  What are you thankful for this Thanksgiving?  How can you thank God and others about what God has done in your life?
May God bless you with His grace, love and truth!