"Whatever you do in word or deed, do all in the Name of the Lord Jesus, giving thanks through Him to God the Father."  Colossians 3:17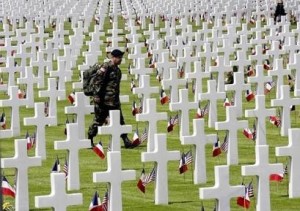 Being the month of November, it is a special time to give thanks.  It is the time of year when giving thanks naturally comes to mind because of Thanksgiving Day, and it is also a time set aside to give thanks for our military veterans during Veterans Day.
Every school year around the time of Veterans Day, our school has a Veterans Day Chapel.  This has become a very special time for our students, teachers and school families to thank and honor the men and women who have served and protected our country, knowing that many of these brave soldiers gave their lives in battle, the ultimate sacrifice for their country and fellow man.  This year's chapel included a video about D-Day that occurred on June 6, 1944.
It reminded me of this past summer when my wife and I visited Normandy, France, and walked the beaches of Normandy where so many brave soldiers died on D-Day, during one of the greatest military battles in history, and a battle that was the beginning of the end of World War II.  We also walked beside thousands of crosses at the Normandy American Cemetery and Memorial on a beautiful blue-sky day.  To be exact, there are 9,387 soldiers buried there, most of them who died between June 6 and June 8 during this horrific battle.
As I wrote previously in "A Greater Love" (7/16/13) about our visit to Normandy and seeing this beautiful area, "it was hard to imagine the carnage that took place there almost 70 years ago."  As we walked the beaches, "I praised God for the gallant men who liberated France and fought to protect our freedoms…soldiers who sacrificed their lives for their brothers in arms and our great nation."
I was blessed during chapel this morning and thank God for our veterans who have served our country in the military, and who are even now serving to protect our freedoms.  It was also a blessing to look many of our veterans in the eye and thank them for their courage and commitment to our country.
At Weston Christian Academy, as long as I'm the Headmaster, Jesus Christ will always be honored and invited to everything we do, and we will always praise His name, "giving thanks through Him to God the Father."  And we will always honor and pay tribute to the brave men and women who have served and protected our great nation.
May God bless you with His grace, love and truth!