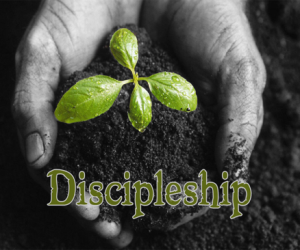 Apply your heart to discipline, and your ears to words of knowledge. Proverbs 23:12
Growing up playing sports, I always enjoyed being part of a team and the discipline of athletic training.  I looked forward to practicing with my teammates and a disciplined workout, knowing that I was growing stronger, faster and better as an athlete.
Growing as a Christian also involves discipline.  It is by God's grace that we know Christ and are called into His family, and God's grace that we grow in our faith and the spiritual disciplines of studying God's Word, prayer, and ministry.  We are called to holiness and God works in us to pursue a life of personal godliness.  What God works in us, we are to work out.  Listen to Philippians 2:13-14:
So then, my beloved, just as you have always obeyed, not as in my presence only, but now much more in my absence, work out your salvation with fear and trembling; for it is God who is at work in you, both to will and to work for His good pleasure.
Growing as a Christian through spiritual discipline is a great joy of life and what God intends for every Christian.  It is what discipleship is all about.  There can be no discipleship without discipline.  However, Christians often try to make this happen by their own will and works, and it leaves them frustrated and joyless.  In our own willpower, we cannot produce any fruit that is pleasing to God.  Only by God's grace and guidance can we accomplish the disciplined life that is pleasing to God.  Jesus declared in John 15:5:
I am the vine, you are the branches; he who abides in Me and I in him, he bears much fruit, for apart from Me you can do nothing.
Paul tells us something similar in Philippians 4:13, "I can do all things through Christ who strengthens me."  As Christians, we can do all things through Christ, but we can do nothing of any spiritual value apart from Christ.  In Christ, we can grow in the spiritual fruit of "love, joy, peace, patience, kindness, goodness, gentleness, faithfulness, self-control" (Galatians 5:22-23).  In this way, we are able to live a spiritually disciplined life as we walk by the Spirit.  Listen again to Paul in Galatians 5:25, "If we live by the Spirit, let us also walk by the Spirit." 
Disciples of Jesus Christ can grow to live spiritually disciplined lives more and more as we let Christ grow and guide us as we walk by the Spirit.  If you don't know Christ, you'll never know the joy that comes from living a disciplined life through the Spirit of God.  If you already know Christ, I pray for you and me, and that we would grow to be the people God has called us to be.
May God bless you with His grace, love and truth!