Now faith is the assurance of things hoped for, the conviction of things not seen…And without faith it is impossible to please God, for he who comes to God must believe that He exists and that He rewards those who seek Him.  Hebrews 11: 1,6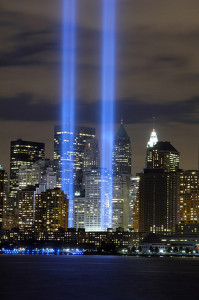 This past Wednesday afternoon, September 11, our middle school students had a special time to share and pray in remembrance of a tragic day in the history of our country.  Although many of our middle school students were not yet born or too young to remember what took place on that terrible day twelve years ago, some of our teachers were able to share with them where they were on 9/11 and what that day means to them.
Those of us who witnessed the events of that day early on September 11, 2001, knew that the safety and security of our country would never be the same.  But, one thing will always remain the same – the grace, love, and truth of our Lord Jesus Christ.  For those of us who know we live in a fallen and sinful world, we can put 9/11 into perspective when we trust Christ as our Savior and Lord.  He will never leave us or forsake us.  He will carry our heaviest burden.  He will calm every fear.
Personally, I don't see how a person can get through any day, much less 9/11, without the true security we have in Jesus Christ our Lord.  Christ alone gives the peace that surpasses all understanding and the spiritual protection from a dark and fallen world.  For believers, we have the hope of salvation and the confidence and assurance that God has shielded us by His love and power.  Listen to 1 Peter 1:3-5:
Praise be to the God and Father of our Lord Jesus Christ!  In His great mercy He has given us new birth into a living hope through the resurrection of Jesus Christ from the dead, and into an inheritance that can never perish, spoil, or fade – kept in heaven for you, who through faith are shielded by God's power until the coming of the salvation that is ready to be revealed in the last time.
It is this hope, confidence, and assurance of our salvation in Christ, and the peace, protection, and power that only comes from a relationship with the Living Lord, that enables us to walk through life by faith and not by sight.
May God bless you with His grace, love and truth!