"And the Word became flesh, and dwelt among us, and we saw His glory as of the only begotten from the Father, full of grace and truth."  John 1:14
This statement from John is one of the most amazing declarations known to mankind.  God, being all merciful and loving, would make Himself known to us by becoming flesh, fully God and fully man.  God humbled Himself and came into this world incarnate, the Son of God, to dwell among us.  The word "dwelt" in this verse can be literally translated "tabernacled" or "lived temporarily."  Jesus Christ "tabernacled" among mankind as special revelation from God that we could know God.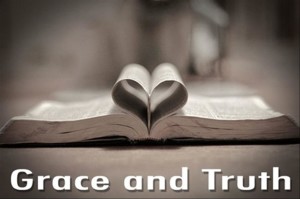 God is Spirit and we could never know God in reality without God making Himself known as special revelation through His Word and His Son.  Therefore, God took on the likeness of men, being found in appearance as a man, that mankind could know God when "the Word became flesh."  We know "the Word" is Jesus Christ from John's introduction in his prologue from John 1:1-2:
In the beginning was the Word, and the Word was with God, and the Word was God. He (Christ) was in the beginning with God.
John gives us his testimony as a disciple of Christ that the disciples saw, touched and heard Christ.  "We saw His glory, glory as of the only begotten from the Father."  John specifically saw the glory of Christ during the transfiguration of Christ as revealed to us in Matthew 17:2 and Mark 9:2.  Jesus took Peter, James and John on the mountain and "He was transfigured before them; and His face shone like the sun, and His garments became white as light."  And God said from heaven, "This is My beloved Son, with whom I am well-pleased; listen to Him!" (Matthew 17:5)  The disciples saw the glory of the Son and heard the glory of the Father.
This was all done by God's grace and according to God's truth.  God's grace is merciful.  God loves us and being a gracious and merciful God does not want to punish our sin.  However, God is just and full of truth; therefore, God must punish sin because His is a holy and righteous God.
Jesus Christ, full of God's grace and truth, came to redeem sinners – those who place their hope and trust in Him.  Listen once again to this great statement from John's Gospel that I shared a few weeks ago in "A Greater Love!":
But as many as received Him, to them He gave the right to become children of God, even to those who believe in His name, who were born, not of blood nor of the will of the flesh nor of the will of man, but of God.  John 1:12-13
May God bless you with His grace, love and truth!