"However, they did not all heed the good news; for Isaiah says, 'Lord, who has believed our report?'  So faith comes from hearing, and hearing by the word of Christ."  Romans 10:16-17
Paul's divinely inspired letter to the Romans is a theological masterpiece, and as I studied through it this summer, I was reminded once again of the need for people, not only to hear the "good news" of knowing Christ, but also the "bad news" of not knowing Christ.
People never want to hear bad news, but it is often the bad news that drives people to hear and understand the good news.  For instance, people never want to hear they have a disease, but it is this knowledge that leads them to seek treatment that will hopefully produce the good outcome of healing.  Without knowing the bad news of the disease, they would never seek the good news to be healed, but remain instead in their diseased condition.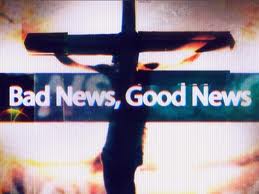 It is the same with our spiritual condition.  As humans, we are radically corrupted by sin from birth.  "For all have sinned and fall short of the glory of God" (Romans 3:23).  And because of our sin condition, we are destined, not only for physical death, but more tragically, separated from God unto spiritual death.  "For the wages of sin is death" (Romans 6:23).  That is bad news, right?  However, here is the good news, and it is the rest of Romans 6:23, "But the free gift of God is eternal life in Christ Jesus our Lord."  Read this amazing verse as it is written together:
For the wages of sin is death, but the free gift of God is eternal life in Christ Jesus our Lord.
That is one of the most amazing bad news and good news statements you'll ever find.  We are condemned to eternal death because of our sin nature, but we are offered the free gift of eternal life in Christ Jesus who forgives and frees us from our sin and death.
The tragically sad problem is this:  most people don't believe this wonderful "good news."  They don't believe the gospel (good news) of Jesus Christ.  They would rather remain in their sin condition, loving their disease and death, than receiving the healing gift of eternal life and salvation.
What about you?  Do you know the good news of Jesus Christ?  Have you received the gift of eternal life?  Or, are you still dead in your sin?  Listen to this concluding verse from Romans 1:16, "For I am not ashamed of the gospel, for it is the power of God for salvation to everyone who believes."  That is the truth of good news!
May God bless you with His grace, love and truth!