"This is my commandment, that you love one another as I have loved you.  Greater love has no one than this, that someone lay down his life for his friends." John 15:12-13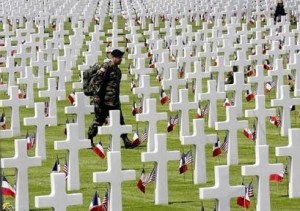 In last week's blog, I wrote that my wife and I recently visited the region of Normandy, France.  I have always wanted to visit that area and see the beaches where our brave World War II soldiers came ashore during the D-Day invasion on June 6, 1944.  As I walked along the Omaha and Utah beaches and through the Normandy American Cemetery and Memorial so beautiful on a windy blue-sky day on the coast of France, it was hard to imagine the carnage that took place there almost 70 years ago.
Although my dad was in the Korean War and not World War II, he was in the 101st Airborne, the Army Division that had such a major part in the Normandy invasion, along with the 82nd Airborne.  So walking the beaches of Normandy, I praised God for the gallant men who liberated France and fought to protect our freedoms.  If you study the history of D-Day, you'll find story after story of soldiers who sacrificed their lives for their brothers in arms and our great nation.  What a great love – to die for your friends and your country!  Is there a greater love?
We can know of a greater love.  The greatest love in the history of the world.  Jesus Christ, God in flesh, sacrificed His life on the cross for you and me, for those who believe in Him.  Although we are sinners, separated from God by our sin, when we place our faith in Christ, we are no longer alienated from God, but become children of God.
But to all who did receive Him, who believed in His name, He gave the right to become children of God, who were born, not of blood nor of the will of the flesh nor of the will of man, but of God.       John 1:12-13
As I walked the beaches of Normandy praising God for the brave men who died so valiantly for our country and our freedoms, I praised God most of all for Jesus Christ, who died to set me free from sin and death, so that I may live as a child of God eternally with Him.
See what kind of love the Father has lavished on us, that we should be called children of God!  And that is what we are!  1 John 3:1
May God bless you with His grace, love and truth!