"For you have been called for this purpose, since Christ also suffered for you, leaving you an example for you to follow in His steps."  1 Peter 2:21
One of my favorite poems is Sermons We See by Edgar A. Guest published in 1926.  I refer to this poem often, especially when talking with students or their parents.  Listen to his words:
I'd rather see a sermon than hear one any day,
I'd rather one should walk with me than merely show the way.
The eye's a better pupil and more willing than the ear;
Fine counsel is confusing, but an example is always clear.
We receive a lot of advice and information about how we are to live our lives.  Parents, pastors, professors, and all kinds of people tell us how we are to behave and be the best we can be.  However, life is not all about behaving better – it is about believing better.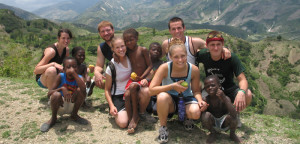 As Christians, we are to believe in Jesus Christ and obey His Word, and be examples for others to see.  Our lives should be living sermons that point people to our Lord.  It is not easy, but it is what God calls us to do.
The Apostle Paul gives clarity to this in 1Corithians when he says, "Whether, then, you eat or drink or whatever you do, do all to the glory of God…Be imitators of me, just as I also am of Christ."  Paul knew that for people to come to know Christ, it was helpful for them to see a living example of Christ.  The Bible says, "Faith comes from hearing, and hearing from the Word of Christ" (Romans 10:17).  Saving faith comes from God's Word by the power of the Holy Spirit; however, people are drawn to the message by seeing the light of Christ in the lives of Christians.
When we follow Christ and live in the light of Christ, others see the light in us and we are like living sermons – living Christ-like examples – attracting them to God.  We can talk and preach about love, joy, peace, patience, kindness, goodness, gentleness, faithfulness, and self-control until we are blue in the face, but when people see the "fruit of the Spirit" in our lives, hopefully they will be attracted to the Light of the World, Jesus Christ.
Be a crystal clear example of Jesus Christ!
May God bless you with His grace, love and truth!