"All Scripture is breathed out by God…" 2 Timothy 3:16
When talking about the truth of God's Word with an unbeliever, one of the main questions that is typically raised is the authority of the Bible, or is the Bible really inspired by God?  If a person does not trust the Bible as divine revelation from God, it will be almost impossible for that person to believe in the truths of Christianity and the authority of God.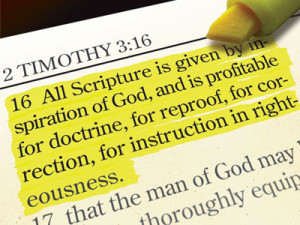 God's people believe His Word and understand that God speaks to us from His Word.  2 Timothy 3:16 says, "All Scripture is given by inspiration of God…"  The Greek original language for "given by inspiration of God" is better translated "breathed out by God," or "God-breathed."  Divine truth is confirmed in our mind and heart by God's Spirit who speaks to us through divine revelation, the Word of God.  Therefore, we can say as many believers have testified throughout the ages, "Thus sayeth the Lord."  Unbelievers, however, testify of their unbelief by questioning God's authority with the same ancient question found in Genesis 3:1, "Did God really say that?"
The Bible, Holy Scripture, is authoritative because it is God's Word.  God breathed His Word into existence by His Holy Spirit.  Therefore, Holy Scripture must be acknowledged as God's Word because of its divine origin.
However, since the Bible was written by human authors many have argued throughout the centuries, how can anything written by men be considered God's authoritative Word?  Holy Scripture gives the answer in 2 Peter 1:20-21:
Knowing this first of all, that no prophecy of Scripture comes from someone's own interpretation.  For no prophecy was ever produced by the will of man, but men spoke from God as they were carried along by the Holy Spirit.
R.C. Sproul helps to clarify this in his book, Can I Trust the Bible?
Although the human writers' personalities were expressed in what they wrote, the words were divinely constituted.  Thus, what Scripture says, God says: Its authority is His authority, for He is its ultimate Author, having given it through the minds and words of chosen and prepared men who in freedom and faithfulness "spoke from God as they were carried along by the Holy Spirit" (2 Peter 1:21).
When we affirm the authority of God's Word, we are standing for truth with God's people throughout history who believe the plans and promises of God.  God's ultimate promise is the Messiah, the Christ, the Anointed One, Jesus Christ our Lord, who is "The Word made flesh…full of grace and truth" (John 1:14).  I hope and pray you believe the authority of God's written Word and the authority of Jesus Christ, God's living Word.
May God bless you with His grace, love and truth!