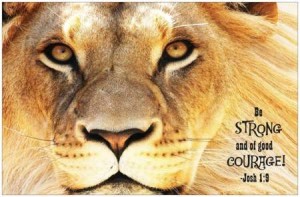 Last week, my wife and I had the privilege of once again attending the Hope Women's Centers annual banquet.  The keynote speaker was Rick Santorum, former U.S. Senator from Pennsylvania and a candidate for the Republican nomination for president of the United States in 2012.  Santorum, known for defending the defenseless and speaking out on behalf of those with voices often drowned out by popular culture or secular media, reminded everyone in the audience that it takes courage to stand for truth.
It takes courage to stand for the sanctity of life; it takes courage to stand for the biblical definition of marriage; it takes courage for a young high school student to stand for purity; it takes courage…to stand for truth.
During his time in public office, Rick Santorum was often unjustly criticized by the press and his liberal opponents as he stood for what he believed in.  His commitment to his faith and family, and conviction to the truth was more important to him than popular opinion or winning an election.
The conviction to stand for truth takes courage.  In Joshua 1:7-9, the Lord said to Joshua:
"Be strong and very courageous.  Be careful to obey the law my servant Moses gave you; do not turn from it to the right or to the left, that you may be successful wherever you go.  Do not let this Book of the Law depart from your mouth; meditate on it day and night, so that you may be careful to do everything written in it.  Then you will be prosperous and successful.  Have I not commanded you? Be strong and courageous."
Today, as it was for Joshua over three thousand years ago, God has called and commanded Christians to stand strong and courageous in the truth of His Word, not turning from it to the right or to the left.  This strength and courage only comes from the grace of God.  "Be strong in the grace that is in Christ Jesus" (2 Timothy 2:1).  It is our faith in Christ by God's grace that transforms our heart and mind to know the truth of Christ and the power of God that enables us to be strong and courageous.
We are called and commanded to be strong and courageous in Christ Jesus, the resurrected Lord, as we face problems and persecution.  Such courage is possible because our Lord is with us wherever we go.
"Do not be discouraged, for the Lord your God will be with you wherever you go." Joshua 1:9
May the Lord bless you with His grace, love and truth!