Yesterday Christians throughout the world celebrated the most glorious event in history – the resurrection of Jesus Christ.  Since the beginning of time, all of history was preparing and pointing to the cross.  God's sovereign plan before the creation of the world predestined that Christ would live a holy and blameless life, die on the cross, and be raised to life for our salvation – for those who believe in Him.
"He was delivered over to death for our sins, and was raised to life for our justification.  Therefore, having been justified by faith, we have peace with God through our Lord Jesus Christ." (Romans 4:25-5:1)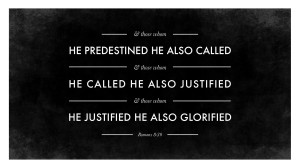 I was a Christian for almost twenty years and in my first year of seminary before I learned the true meaning and the importance of the theological term, "justification."  I was in R.C. Sproul's class, Justification by Faith, and the whole nine week class was dedicated to the study of justification by faith alone, and what it means to a Christian.  Justification by faith alone was so important to the Reformation that Martin Luther declared it, "the article with and by which the church stands, without which it falls."  Luther went on to say of justification, "The article of  justification is the master and prince, the lord, the ruler, and the judge over all kinds of doctrines; it preserves and governs all church doctrine and raises up our conscience before God.  Without this article the world is utter death and darkness."
Justification is central to the gospel message and foundational to salvation and how a Christian is redeemed by grace through faith in Jesus Christ our Lord.  The Christian doctrine of justification explains our status before the just and holy judgment of God and how sinful human beings are made acceptable by God.  Christianity is unique because of its teaching of justification by grace. (Romans 3:24)
Justification is God's declaration that the demands of His Law have been fulfilled in the righteousness of His Son.  The basis for this justification is the death and resurrection of Christ.  Although Jesus Christ has paid the penalty for our justification, it is through our faith that we receive the gift of salvation and are declared righteous by God and saved from God's wrath.
"God demonstrates His own love toward us, in that while we were yet sinners, Christ died for us.  Much more then, having now been justified by His blood, we shall be saved from the wrath of God through Him." (Romans 5:8-9)
As I worshipped on Easter morning, I was reminded once again of God's tremendous love for me and the tremendous truth of justification by faith alone.  God delivered His only begotten Son over to death on a cross for my sin and raised Him to life for my justification – that through my saving faith in Christ, I may be declared righteous by a just and holy God.  Thank you, Lord, for saving a sinner like me.
"Those whom He predestined, He also called; and those whom He called, He also justified; and those whom He justified, He also glorified." (Romans 8:30)
May God bless you with His grace, truth and love!